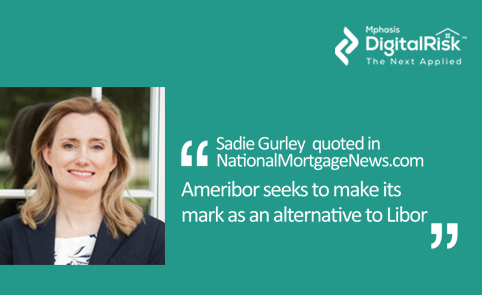 Sadie Gurley quoted in NationalMortgageNews.com
August 16, 2019
Sadie Gurley, Head of Diligence Services at Mphasis Digital Risk was quoted in NationalMortgageNews.com in the article titled "Ameribor seeks to make its mark as an alternative to Libor" discussing the challenges anticipated in replacing Libor with SOFR.
Reflecting on the continuity issues, Sadie remarks, "SOFR is an overnight rate, it's got no tenor and it's a risk-free rate so it doesn't have that risk-spread".  Libor has various duration iterations, including three months, six-month and one-year rates, while SOFR is an overnight rate. "They haven't figured out how to create yet a three-month SOFR or a six-month SOFR or a one-year SOFR," Gurley said. So there are different risks taken into account because of that longer-term duration, "and even if it's only slight, it still exists," she said.
Read the full article here
Click here to learn more about Mphasis Digital Risk or schedule a meeting today!

Mphasis Digital Risk uses a consultative and multi-phase approach to help organizations with their LIBOR strategy.
Get in touch today to schedule a LIBOR Strategy session.