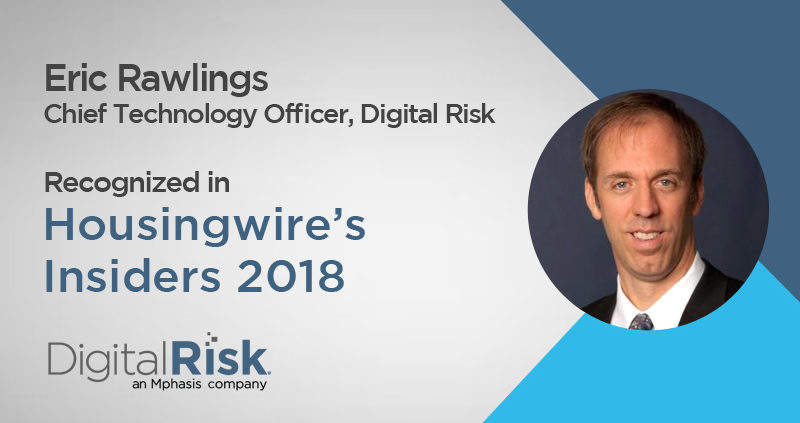 Digital Risk's Eric Rawlings Recognized as a 2018 HousingWire Insiders
September 15, 2018
Eric Rawlings, Chief Technology Officer at Digital Risk LLC, an Mphasis company, has been recognized as one of the HousingWire Insiders 2018. HousingWire began identifying the contributions of professionals in the mortgage finance industry three years ago, recognizing professionals for their ability to not only transform their companies, but the industry as a whole.
Eric Rawlings and his team are the architectural backbone and security for Digital Risk's mortgage services, configurable technology and business operations. "We are proud to see Eric's hard work and dedication is getting recognized by our industry, he plays a pivotal role to ensuring Digital Risk is providing the best and innovate solutions to our clients," said Digital Risk CEO, Puneet Bharani.
Rawlings and his innovative team customize solutions to fit the needs of clients in the financial services and lending space. Particularly, Rawlings ensured that legacy client systems seamlessly interact with newer front-end solutions to deliver hyper personalized borrower and loan officer technologies.
He also played a vital role in bringing together the technology of the company's digital mortgage platform, LoanFx, with Black Knight's Loansphere Empower loan origination system.
Visit www.HousingWire.com or https://www.housingwire.com/articles/46673-hw-insiders-eric-rawlings to learn more.
Click here to learn more about Mphasis Digital Risk or schedule a meeting today!