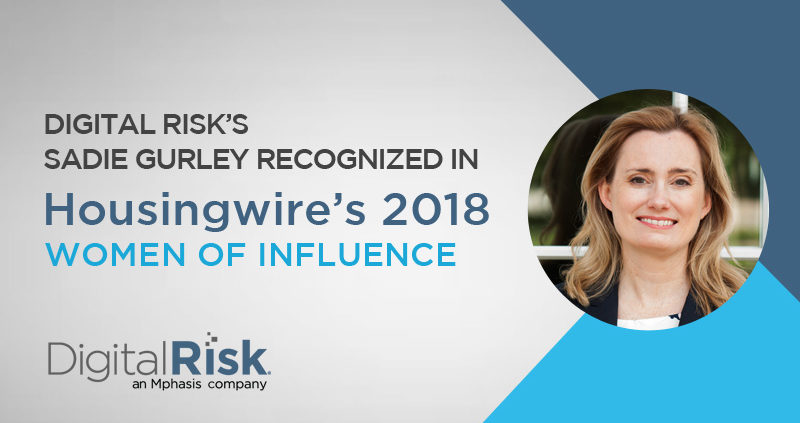 DigitalRisk's Sadie Gurley recognized in Housingwire's 2018 Women of Influence
August 09, 2018
8th annual list highlights leaders 'at the top of their game' who inspire others in their company, communities and beyond
MAITLAND, Fla., AUGUST 9, 2018 -- Digital Risk LLC, an Mphasis company, an end-to-end origination, risk, compliance, due diligence and technology services company that partners with the mortgage, consumer lending, financial services and other regulated industries, today announced that senior executive Sadie Gurley has been named a 2018 Woman of Influence by HousingWire.
Gurley, who joined Digital Risk in April as Head of Diligence Services, is one of 85 leaders recognized for leading the housing and mortgage industry forward. Compiled by HousingWire staff based on significant accomplishments within the past 12 months, the list includes executives in residential mortgage lending, servicing, investing and real estate as well as those in advocacy positions, such as nonprofits and government agencies.
"We could not be prouder of Sadie's numerous contributions to moving the industry forward and her work as a role model to the growing number of women pursuing careers in lending," said Jeffrey Taylor, Co-Founder and Managing Director of Digital Risk. "Sadie has earned her place in this very prestigious list of peers."
"This is an incredibly interesting and rewarding time to be in the industry, working with the great team at Digital Risk and our partners. Harnessing technology and innovation has allowed us to streamline the due diligence process, while adapting to a fast-changing regulatory and economic landscape," said Gurley. "There are so many inspirational leaders included in the Women of Influence at the forefront of these efforts and I'm honored to be counted among them."
HousingWire recognized Gurley's leadership across the mortgage industry for more than 20 years, working both at leading financial institutions and companies she founded. At Goldman Sachs, she was a vice president on the asset backed securities and mortgage trading desks, where she was responsible for buying and securitizing mortgages, auto loans, manufactured housing and other asset classes.
In each role, she managed complex financial instruments and led initiatives to upgrade technology in the mortgage industry. The industry turned to her during and after the financial crisis to remediate issues through the recapitalization of troubled debt and participation in PPIP funds. She recently joined Digital Risk to head the firm's due diligence business, created to manage an expected surge in mortgage securitizations. Sadie leads the company's efforts to better deploy its best-in-class integrated solutions, facilitate rapid access to loan information from client systems and boost loan evaluation services.
This year's list is the largest in in the award's history. "We had so many incredible applicants this year that even choosing 85 was difficult" said HousingWire Editor-in-Chief Jacob Gaffney. "This year, above all others, shows all of us the need to recognize powerhouse leadership in the mortgage industry. It's our responsibility to recognize women who are at the top of their game, those who improve our industry, day in and day out, and help make a brighter future for every American in search of a place to call home."
About Digital Risk, LLC
Digital Risk, LLC is a leading end to end originations, diligence, compliance, and technology services company that offers differentiated solutions to the mortgage, consumer lending, financial services and other regulated industries. By providing a combination of digital mortgage services, configurable technology and business operations, Digital Risk delivers high performance solutions to their clients that brings transformational improvements to quality, cost, and service.  Digital Risk, LLC is a wholly owned subsidiary of Mphasis Ltd. To learn more, visit https://digitalrisk.mphasis.com
About Mphasis
Mphasis (BSE: 526299; NSE: MPHASIS) applies next-generation technology to help enterprises transform businesses globally. Customer centricity is foundational to Mphasis and is reflected in the Mphasis' Front2Back™ Transformation approach. Front2Back™ uses the exponential power of cloud and cognitive to provide hyper-personalized (C=X2C2 TM=1) digital experience to clients and their end customers. Mphasis' Service Transformation approach helps 'shrink the core' through the application of digital technologies across legacy environments within an enterprise, enabling businesses to stay ahead in a changing world. Mphasis' core reference architectures and tools, speed and innovation with domain expertise and specialization are key to building strong relationships with marquee clients. Click here to know more.
About HousingWire
HousingWire is the most influential source of news and information for the U.S. mortgage and housing markets. Built on a foundation of independent and original journalism, HousingWire reaches over 40,000 newsletter subscribers daily and over 4 million unique visitors each year. Our audience of mortgage, real estate, financial services and fintech professionals rely on us to Move Markets Forward. Visit www.HousingWire.com or www.solutions.housingwire.com to learn more.
Media Inquiries:
Sean Dougherty / Ryan Dicovitsky
Dukas Linden Public Relations
drisk@dlpr.com
212-704-7385