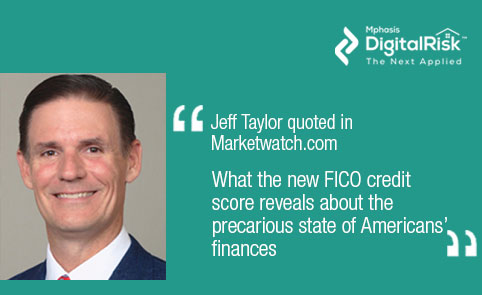 Jeff Taylor quoted in Marketwatch
January 28, 2020
Jeff Taylor quoted in Marketwatch.com in "What the new FICO credit score reveals about the precarious state of Americans' finances"
Jeff Taylor,  was recently quoted in Elisabeth Buchwald's MarketWatch story on the impact of the new FICO score on credit and finances.
With FICO redefining credit score calculation, 'personal loans' identify as one of the trouble spots in Americans' financial health.
"With a greater emphasis on personal loans under the new FICO scoring system, consumers may be more likely to take out home equity loans to pay off their debt", Jeff says commenting on the overall situation. "Home-equity loans come with their own risks, however, missing payments on home-equity loans can lead eventually to a foreclosure." Says Jeff.
Read the full article here
Click here to learn more about Mphasis Digital Risk or schedule a meeting today!