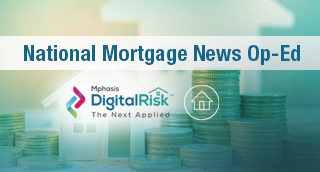 Kim Lanham and Leo Loomie quoted in National Mortgage News Op-Ed
November 12, 2020
Kim Lanham and Leo Loomie, both SVP, Client Relations at Mphasis Digital Risk, were featured in a National Mortgage News Op-Ed titled, "Working From Home is the New Norm – The Mortgage Industry Should be Allowed to Embrace It", sharing their point of view on how enabling remote work is both an asset and accelerator, to the loan production process.

The Secure and Fair Enforcement for Mortgage Licensing Act remains one of the biggest regulatory challenges for lenders, and critical decisions are being complicated by a patchwork of regulation and re-opening procedures that vary by state. As the industry continues to adapts to the COVID-19 pandemic, flexibility is required. For example, Remote appraisals are now permitted in many cases by Fannie Mae and Freddie Mac, and there have been significant developments on the technology front to enable safe and secure work from home environments, including Virtual Desktop-as-a-Service.

Kim and Leo also state that a permanent remote work licensing solution could be a big step toward meeting the current and future needs of mortgage professionals and the industry as a whole.

The full article can be read here, viewable to NMN subscribers.

Click here to learn more about Mphasis Digital Risk or schedule a meeting today!