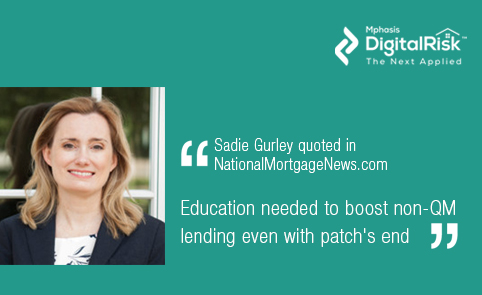 Sadie Gurley Quoted in NationalMortgageNews.com
October 08, 2019
Sadie Gurley, Head of Diligence Services at Mphasis Digital Risk was quoted in NationalMortgageNews.com in the article titled "Education needed to boost non-QM lending even with patch's end" discussing the growth of non-QM lending. 
Given the expected elimination of the so-called QM patch and the work yet to be done in terms of educating lenders, mortgage brokers, warehouse line providers and consumers, Sadie says "Any time something is outside the box, we are all looking for the compensating factors". Sadie believes, "It's what gets you comfortable that this loan is going to perform." And that is what might be holding some potential participants back, she continued. "We're being cautious about our stamp on these loans because nobody wants the liability going back to them."
Reflecting on the bigger influence on future participation in non-QM, Sadie comments "We're still seeing a lot of originators - it may change now, as interest rates change, originators products change — when interest rates backed up everybody started looking to move into the non-QM space to gain market share, to get originations," Gurley said. "But now that interest rates have tightened up again and refis are back, right now there's a ton of origination jumbos coming out again. Our clients who started working on 'hey how can I get into non-QM' in the fall, when they were looking for something else to do, are still working on that process."
Read the full article here
Click here to learn more about Mphasis Digital Risk or schedule a meeting today!

Mphasis Digital Risk's customized Diligence Services combine domain expertise, advanced technology capabilities and highly skilled professionals to provide Origination, Purchase, Sale and Securitization support.
Get in touch today to know more : info@digitalrisk.com