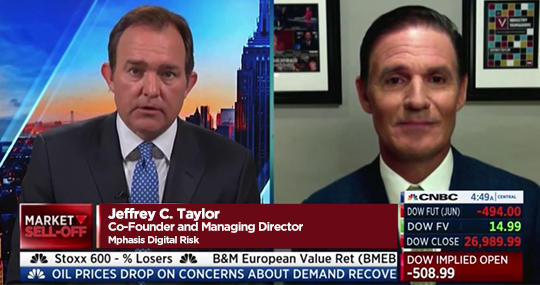 US Housing Market will come out of the pandemic significantly better off than it did in the 2008 Financial Crisis
June 17, 2020
Jeff Taylor, Co-Founder and Managing Director at Mphasis Digital Risk appeared on CNBC's Worldwide Exchange with host Brian Sullivan, discussing how the US Housing Market will come out of the pandemic significantly better off than it did in the 2008 Financial Crisis.  Jeff explained how near record-low interest rates and record-high home equity pre pandemic bodes well for a strong recovery this time around.

Jeff concludes that the low rate of forbearance is a positive sign regarding economic recovery as states begin to reopen businesses. That optimism is reflected in MBA figures that over 30% of homeowners requesting forbearance continue to make payments - suggesting forbearance applications are being made as an insurance mechanism or additional financial planning option.

Watch the full clip here
Click here to learn more about Mphasis Digital Risk or schedule a meeting today!